After spending my weekend in awe of Mastodon's complete
Crack The Skye
live performance—and reading about
ATP New York 2009
's plans to have several bands perform respective classic albums in their entirety—I began thinking about which records I'd love to see performed live.
The following Top 10 albums are listed in no particular order and are there for my own sonic amusement—picked for their superb tracking, ability to transition well to a live stage and, most importantly, the probability of the event
actually
happening. I'm always open to hearing other peoples' selections, so please comment back with your choices. And for more
Mastodon
pics, come over
here
.
1. Afghan Whigs - Gentlemen




2. Monster Magnet - Dopes To Infinity


3. PJ Harvey - To Bring You My Love

4. At The Gates - Slaughter of the Soul

5. Carcass - Necroticism...

4. Cursive - The Ugly Organ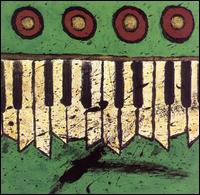 5. Nine Inch Nails - The Downward Spiral


6. Deftones - White Pony


7. Eyehategod - Take As Needed For Pain


8. Concrete Blonde - Bloodletting


9. Faith No More - The Real Thing (Hey, it was good enough for The Sword!)


10. Rancid - Let's Go